Innsbruck
Nestled in the Alps and encircled by ski resorts, Innsbruck is a compact city cradled by towering mountains. It has a rich history: Maximilian I based his imperial court here in the 1490s, placing the city at the heart of European politics for a century and a half. This combination of historical pedigree and proximity to the mountains has put Innsbruck firmly on the tourist trail.
Old Town (Altstadt)
The old town of Innsbruck, which is also known as the Altstadt, is a must-visit.Being the cultural and geographical heart of Innsbruck, it's impossible to miss.The Old Town has been beautifully preserved with buildings that date back to medieval times, giving it a very cosy, authentic feel
 Maria-Theresien-Strasse
Maria-Theresien-Straße is the commercial centre of Innsbruck and also a must-visit while in Innsbruck.The baroque architecture is revered and makes for a stunning foreground to the mountains.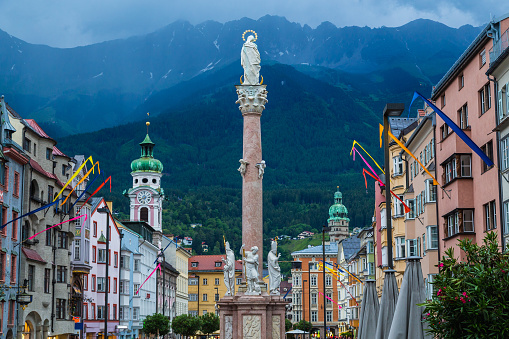 Triumphal Arch
Located just south of the Old Town of Innsbruck, the Triumphal Arch from 1765 used to be the southern entrance to the city.