Ultimate Europe Bucket List!
Bucket lists – you either love them or you hate them! But regardless of what anyone tries to say, we all have some sort of traveling bucket list or wish list we want to tick off. In Europe, there are so many things to do, see, taste and experience let alone the world! So, if you're looking for the typical and iconic must-do things to see and experience in Europe, you've come to the right place! Here are some of our favorite things to include on your Europe bucket list!
10 of the best things to do in Europe to include on your bucket list! 
1. Scale the Eiffel Tower in Paris One of the highlights of visiting Paris is climbing the most-visited paid monument in Europe, the Eiffel Tower! Scaling the tower at sunset to have a nighttime view over Paris is a truly remarkable experience. Discover the history of this incredible monument and look out for the apartment that Gustave Eiffel had built for himself at the top of the tower.
2. Have high tea in London 
This is one of the typical things to do when you're in London, as going for afternoon tea is as British as the Union Jack and the Queen. You can sip over a traditional cup of tea and eat biscuits in a cafe, or push the boat out and have high tea at one of the many wonderful hotels and venues throughout the city!
3. Discover Slovenia's most beautiful island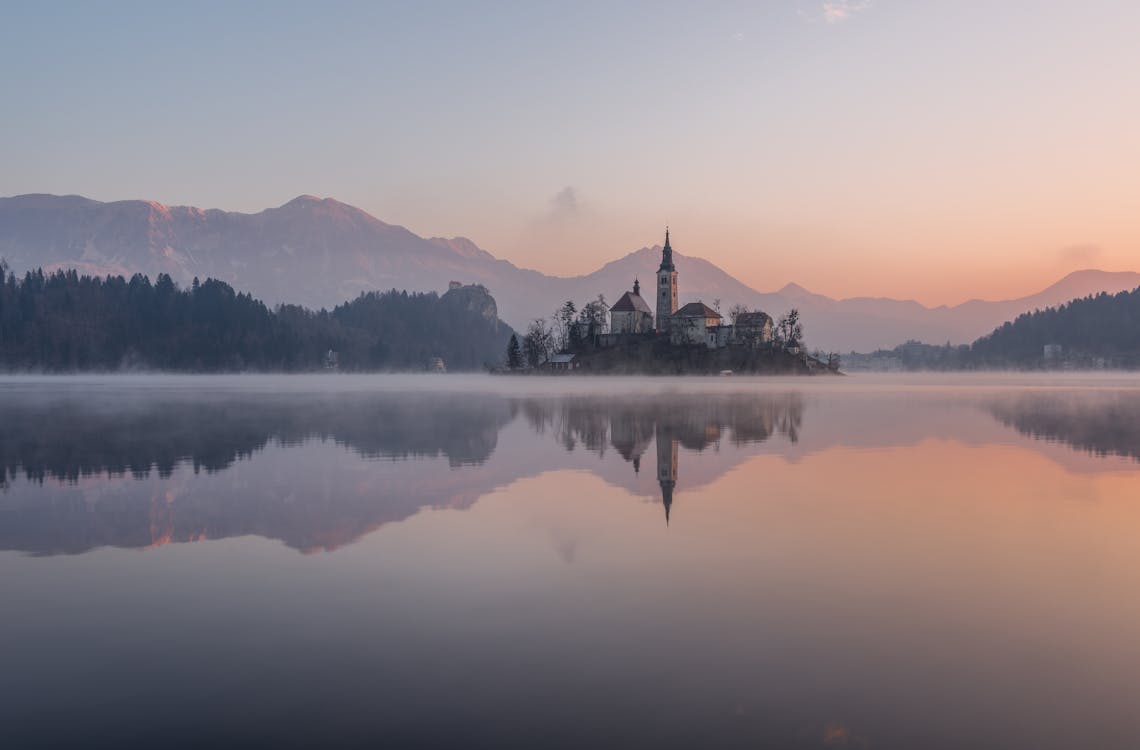 Many people visit Slovenia and fall in love with the beautiful town of Bled, while the list of things to do in what's known as one of Europe's hidden gems is not long, this allows you to enjoy your time here and make the most of all that the town has to offer! One of the biggest attractions is Lake Bled and Bled Island, pictured above, Head out to the island on a traditional wooden pletna boat. It may be a very touristy thing to do, but the views make it all worthwhile.
4. Eat as many Belgium waffles in any Belgian city as you can stomach!  
Belgium is the waffle country, perfect for those foodies looking for things to do and eat while in Europe! You can find this warming Belgian dessert on almost every street corner in cities like Brussels, Bruges, and Antwerp. The traditional thing to do while in any of Belgian cities is to enjoy the waffles with whipped cream, strawberries and chocolate syrup!
5. Take a train to Jungfraujoch (Interlaken)
Interlaken is the gateway to the Jungfraujoch experience, an alpine attraction with a viewing point at an altitude of 3454m. Located between the well-known mountains Mönch and Jungfrau. It's one of the few locations where you can play in the snow all year round. Jungfraujoch in Switzerland is renowned for its scenic beauty and amazing location! This is definitely one of the more unique things to do while in Europe!
We have an interrailing package that takes you to Jungfraujoch and some other amazing locations in Switzerland, click here! 
6. Eat Trdelnik in Prague
Another thing to do in Europe suited to the foodies is trying the sweet, cinnamony and quintessentially Czech, Trdelnik. Made from rolled dough that is wrapped around a stick, then grilled and topped with sugar and walnut mix, this tasty treat is often filled with ice cream or other mouth-watering fillings. Simply delicious!
7. Visit Anne Frank Huis in Amsterdam
Visit the museum dedicated to the diary of a young girl named Anne Frank, where she told the story of how her family hid from Nazi persecution in wartime Netherlands. The touching tale is brought to life in Amsterdam at Anne Frank Huis, her actual house and a biographical museum showcasing the life and times of the Frank family. This is one of the best things to do while in Amsterdam, one of Europe's truly unique museums.
8. Try to capture the Leaning Tower of Pisa 

One of the most typical things to do in Pisa is to capture a picture with the Leaning Tower! The tower has been leaning for almost a millennium and has always leaned as it is built on slightly loose soil. It actually started leaning so much that it had to be closed to the public and straightened up. Not only does Pisa have the Leaning Tower, but there are also many other amazing things you can see and do while you're here!
9. Hike the walled city of Dubrovnik
Dubrovnik is famous for being an iconic filming location for the likes of Star Wars and Game of Thrones, and more people are starting to flock to the city to appreciate its beauty for themselves. One of the best things to do in Europe's rising destination is taking a hike around the walls. Built around the 12th and 17th centuries, and were designed to protect the town from pirates and other unwelcome guests.
10. Reminisce your childhood years on a Ferris Wheel in Austria
A visit to Vienna is not complete without taking a ride in its legendary Ferris Wheel, one of the most beautiful and oldest Ferris wheels in Europe. Discover the Austrian capital at 65 meters on world-famous Wiener Prater, built during 1897 to mark the 50th year of Emperor Franz Joseph's accession to the throne. It has been an enduring feature of the city's skyline ever since! It has also long been considered the largest wheel in the world.
Looking for more bucket list ideas? Here are 100 things to do in Europe to include on your bucket list!
Looking to take a vacation in Europe? Check out our pre-designed rail vacation packages or build a custom European vacation package!