Brig
The town of Brig with its historic old quarter and the Stockalper Palace lies in the sunny Upper Valais at the foot of the Simplon Pass. Situated at an important junction, Brig is an ideal starting point for excursions. It is close to hiking and ski regions on the Lötschberg and Simplon, and in the Aletsch. It also has its own thermal baths, making it an attractive holiday resort.
The Stockalper Castle
 Built from 1649 by Kaspar Stockalper vom Thurm on the old Simplon Pass road, is the largest secular baroque building in Switzerland today. In the monumental complex, the massive main wing, the fortified granite towers and the magnificent arcaded courtyard come together to form an exciting whole.
The holdings of the castle museum include collections on the Stockalper family, the history of the Simplon Pass and railroad line, as well as exhibits on Upper Valais folklore and cultural history. On the first floor, the exhibition "Passage Simplon" sheds light on the eventful history of the Simplon Pass.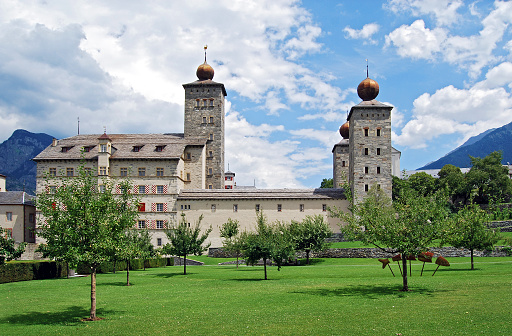 The iischi arena is a meeting place for visitors and locals in Brig-Glis. The modern ice sports centre offers plenty of space for people to indulge in all kinds of sports and leisure activities.
Whether ice sports, martial arts such as Youseikan Budo, dancing, football or other sports – the iischi arena is home to several types of sport and leisure activities. The spaciously designed halls are also perfect for events and meetings. The Gaumenzauber snack bar in the heart of the iischi arena is a popular meeting place.