Athens
The city of Athens is one of the oldest existing cities with a great past of wars & acquisitions. Unlike other European nations, where monuments still stand in their pristine condition, Athens has ruins from a much more ancient time, spread across the city that narrate a gripping tale of its past.
Apart from its rich culture and historical remains, there is more to this fascinating city. With pristine beaches, wonderful landscapes, robust nightlife, and exquisite cuisine, there's something for everyone that makes it the ideal destination for a trip.
The Acropolis
The Acropolis of Athens is the most striking and complete ancient Greek monumental complex still existing in our times. It is situated on a hill of average height (156m) that rises in the basin of Athens. Below the Acropolis is the theater of Herod Atticus built by the Romans in 161 AD and  still used today for classical concerts, ballet, performances of high cultural value and Yanni. Further on is the Theater of Dionysious the first stone theater and home to Sophocles, Aeschylus, Euripides and Aristophanes.
The Temple of Olympian Zeus
This half-ruined temple is dedicated to Zeus, the chief of the Olympian Gods, and that is how it took its name, the temple of the Olympian Zeus. It stands within a walking distance from the Athens center, only 500 m southeast of the Acropolis and 700 m south of Syntagma Square. This temple is very close to other monuments of Athens, such as Kallimarmaro Stadium, the Hadrian's Arch and Zappeion Megaron.
Odeon of Herodes Atticus
One of the legendary sites that sits beneath the slopes of the Acropolis on the southwest side, is the stunning open-air theatre, Odeon of Herodes Atticus. When Pausanias, the Greek traveller and geographer from the second century AD, visited Athens during the reign of Marcus Aurelius, he described the Odeon theatre as "the finest building of its type".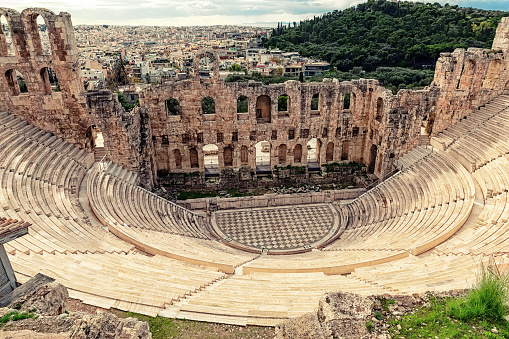 Temple of Poseidon
The Ancient Greeks knew how to choose a site for a temple. At Cape Sounion, 70km south of Athens, the Temple of Poseidon stands on a craggy spur that plunges 65m to the sea. Built in 444 BC – same year as the Parthenon – of marble from nearby Agrilesa, it is a vision of gleaming white columns. Sailors in ancient times knew they were nearly home when they saw the first glimpse of white; views from the temple are equally impressive.